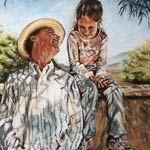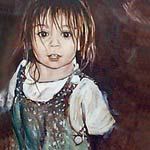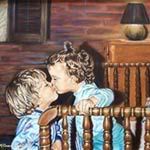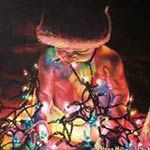 ~traditional and alternative portraiture~
Welcome to my portrait gallery...here you will find a variety of portaits that I have done in the past, in both traditional and alternative styles. To help you get an idea of what a portrait might cost, I have attempted to make the intangible, tangible. Each portrait process is a unique journey and fees will vary accordingly, but I think you will be able to get an idea of how a portrait fee is determined. It's really a question of how many hours it will take to create your custom portrait. The base fees for a traditional portrait are pretty straightforward. It's the custom elements of a portrait's composition that are the intangibles. Additional subjects, custom backgrounds as well as an alternative style are all elements that add time to the portrait process and it is only the artist who can determine those costs accordingly.
The final fee for a portrait would be determined before a contract is signed, with base fees and custom elements itemized, so you would know cost as well as portrait composition before I began your commission.
As the artist, I do reserve all artistic license, as many times a painting will speak to me. You will not be charged for additional elements added at my discretion during the painting process.
When I'm painting a portrait, there is this moment of magic that happens...
...when the person's eyes come to life in the portrait..
...when they seem to be looking right at me, smiling and saying, "thanks...I like what you're doing."
It gives me goosebumps every single time.
Enjoy your visit and please remember, the following fee examples are guidelines only~ Each portrait journey is unique and costs can vary accordingly.